The Virginia Coast Chorus is currently rehearsing at a new location
Ghent United Methodist Church
531 Raleigh Ave
Norfolk, VA 25307
Parking in back of church

Please call us at 757-389-8713 to leave a message and we will call you back.

For updates, please check back here.
Stay safe!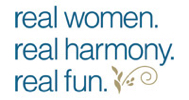 You are invited to
Drop in Anytime

Please contact us before visiting. Click here for more information about our membership process and to fill out our guest registration form.
We welcome women from every age group and occupation, offering opportunities to excel in musical competitions and local performances.
THE CHORUS EXTENDS TO ITS MEMBERS UNIQUE AND WIDE-RANGING OPPORTUNITIES FOR EDUCATION AND EXPERIENCE IN SUCH AREAS AS DIRECTING, MUSIC ARRANGING, JUDGING, CHOREOGRAPHY, SHOW PRODUCTION, ADMINISTRATION, AND LEADERSHIP SKILLS.
The very first night you will be given the opportunity to stand on the risers and ring those barbershop chords - a truly unforgettable experience.
To quote one of our members: "It's the love of singing that brought me to Virginia Coast Chorus. It's the fun, enthusiasm and lasting friendships that keep me returning week after week. I love it!"

Notes for your visit:
Bring a bottle of water - vocal chords need hydration for optimum vocal production and wear casual clothing and comfortable shoes - you will be standing on the risers for most of the evening.
Layers are a good idea, as well.
Please avoid arriving with perfume or other scent products. Scents can come in many forms - perfume, hair products, deodorant, fabric softener, etc. We have members in our chorus whose health is really impacted by any scents when they are singing. All that deep breathing we do means every breath that comes into our bodies includes all the scents around us.
We start promptly at 6:45 pm with warm-ups. Then performance practice which will vary depending on the chorus' upcoming event plans. There will be a short business meeting. Rehearsal is over before 10 pm.